This article is about the card type. For the idol unit, see
SHiFT
.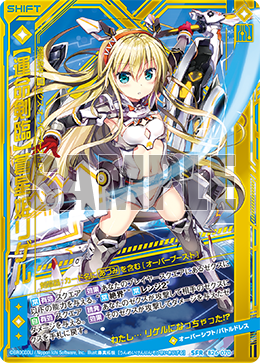 Shift (剣臨 or シフト Shifuto) is one of the card types in Z/X -Zillions of enemy X- TCG.
Shift cards were introduced in Booster 26: Code:Engage - Shift Infinity. Similar to Z/X Extra and Z/X Overboost, Shift cards are put into the Dynamis instead of regular deck.
Shift cards does not possess any Cost or Power, and cannot be played on their own. Instead, they can only be played if the player control a Z/X Overboost on Square, by placing them on the top of the Z/X Overboost controlled by that player. The process of playing a Shift and placing it on the top of a designated Z/X Overboost is known as "Shift In".
In order to play a Shift, a player need to fulfill these conditions:
They fulfill the condition written on the Shift Condition (剣臨条件 Kenrin Jōken) in the Shift card text.
They have a Z/X Overboost on Square that meet the criteria written on the Shift Vessel (剣臨器 Kenrinki) in the Shift card text.
Player can only play Shift from their Dynamis once per turn during their Main Phase (this is a separate limit from the limit for playing a Z/X Extra), and each player may only control one Shift card on Square.
As long as a Shift is placed on the Z/X Overboost, all name, color, Tribe, and ability possessed by the Shift is also added to that Z/X Overboost. That Z/X Overboost still retain its original name, color, Tribe, and abilities in addition to the ones provided by the Shift.
If a Z/X Overboost with Shift placed on it left the Square, the Shift is put into the Dynamis in face-up position per Rule Effect. Similar to Z/X Extra, a face-up Shift in Dynamis cannot be played at all.
Z/X Encyclopedia Entry
The ultimate secret technique devised by Dragon Miko of the Five Worlds and the Dragon Miko of the Beginning. It overrides the form of Z/X user and Z/X that has accomplished Ignition Overboost with the form of a person from the depth of causality, and adds the abilities of that person to them. Most of them take the form from a potential future, but there are also those who showed their former life in the past. It is an extremely powerful technique and also an unstable one at the same time, thus it cannot be maintained for a long time. Z/X user that performed Shift are known as "Shift Vessel".

Yasigi from Red World, Polaris from Blue World, Lien from White World, Crucifi from Black World, and Ayame from Green World. The five of them are not only the underlying causes of this technique, but also involved in the technique establishment.
References
Z/X - Zillions of enemy X- TCG Gameplay
Playing Manual
Card Types
Z/X · Event · Player · Z/X Extra · Z/X Overboost · Shift

Card Layout and Parameter

Card Name · Card Type · Cost · Color · Text · Icon · Tribe · Power · Flavor Text · Illustrator · Rarity · Collector Number · Notation · Player Name

Zone

Square (Player Square · Normal Square) · Deck Zone (Deck) · Trash · Charge · Life · Resource · Hand · Temporary · Remove Zone · Force Zone · Dynamis Zone (Dynamis)
Game Flow
Turn · Reboot Phase · Draw Phase · Resource Phase · Ignition Phase · Main Phase (Battle) · End Phase
Ability Types
Startup (Boot) · Auto · Continuous (Always) · Event Ability · Zero Optima · Level Ability
Keyword Action
Damage · Reboot / Sleep · Shuffle · Draw · Reveal · Appear · Destroy · Remove · Put as Force · Ignition · Life Decrease / Increase · Recover · Unaffected by Effect · Ignition Overboost · Shift In
Keyword Ability
Start Card · Life Recovery · Void Bringer · Range · Evol Seed · Absolute Boundary · Alter Force (Force) · Infinite Solitude · Stylish Headbutt
Advanced
Priority · Dealing with Card and Ability · Rule Effect
Other
Loop · Omitting Action · Destroyed by Battle · Destroyed by Card Effect · Virtual Player Card · Token
Miscellaneous
Seal God Designation · Card Classification and Limitations · Expiration Date · Rebuild
Additional Rules
Bonds of the Twin Dragons · Sealed Battle · Draft Battle · Raid Battle
Community content is available under
CC-BY-SA
unless otherwise noted.