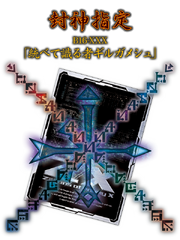 This card is the first card included in the Seal God Designation as well as the first card excluded from it, albeit for non-competitive reasons.

During its inclusion, it was pictured as being "sealed" by seal made of the Dingir symbol and characters (read as "HUMAN ANNIHILATOR") as shown on the right. Several days before its removal from the designation, the seal fade off little by little, revealing the full image of the card on its removal date.
The B16-XXX version of card is currently the only card to have a different prefix to the prefix of set it was released in (B15).