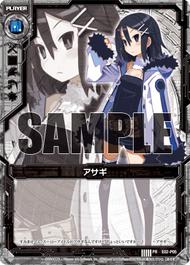 Asagi (アサギ Asagi) is the protagonist for the then indefinitely postponed Nippon Ichi Sofftware game, Makai Wars. She has made cameo appearances in various Nippon Ichi Software games.
In Z/X -Zillions of enemy X- TCG, there are several cards with "Asagi" in its card name, with the majority of them also have "Asagi" (アサギ) listed as its tribe. The first of them were "Permanent Hidden Character, Asagi" from Set 3, which is quickly followed by the promotional cards from Z/X - Crusade of the Absolute Boundary and many more from NIS Extra Pack and its sequel.
Asagi cards are mostly Blue with various kind of abilities. Some (if not most) of her cards also makes fun of her longtime desire to become a protagonist on her own game.
List of "Asagi" cards
Cards with [Asagi] as its tribe
Other cards with "Asagi" in its card name
External Links
Community content is available under
CC-BY-SA
unless otherwise noted.